---
On a Mac?
---
On Windows? Keep reading…
*Due to the complexity of how different internet providers regionally & internationally allow specific protocols to pass though their internet networks we have provided three methods of connectivity. These changes are required to be applied to your home / off campus PC or laptop for connectivity back to your office workstation.*
Start your Remote Desktop client app (your current username or it can be in this format "FirstName.Lastname@ales.ualberta.ca" or the previous old "FacultyDomainName\your_user_name" format).
Obtain the "Computer IP address (your campus workstation)" from the ALES IT staff if it is not already provided in your "Remote Desktop Connection" app;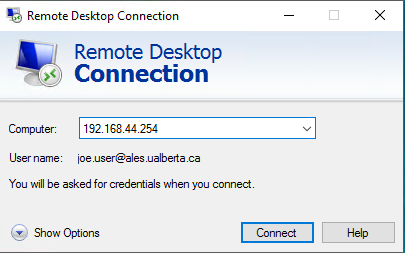 Expand "Show Options" & then click on "Advanced" tab then click on "Settings" (connect from anywhere);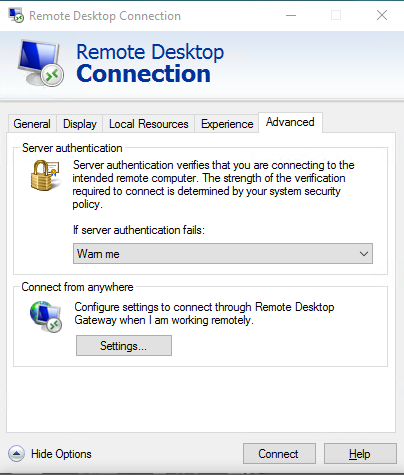 Server name "alesrds.ales.ualberta.ca" & check mark the "use my RD Gateway credentials for the remote computer".
Preferred configuration method
(uncheck "Bypass RD Gateway server for local addresses")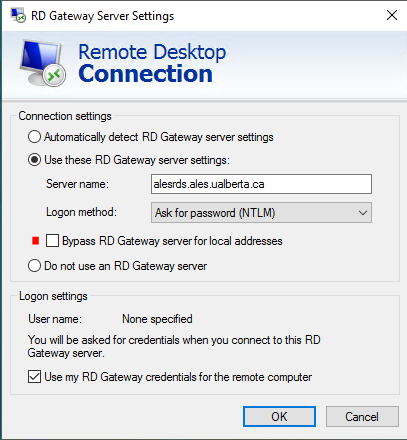 If this method gives you an error message and / or fails to connect to your PC, carry on to "Alternate configuration method #2"
Click "OK" & return to main screen to click back to "General" tab & click on the "Connect" button to complete your connection.