Alternate method #2: Remote Desktop Access
(please review the entire process before making any changes to your current configuration).
This method will bypass the Remote Desktop Gateway service. First we must disable the use of the Remote Desktop Gateway server on your Remote Desktop client app.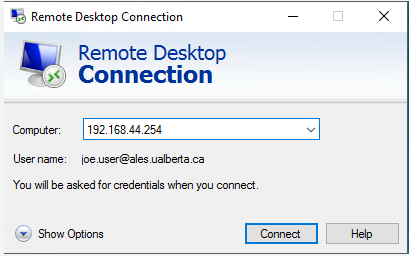 Expand "Show Options" & then click on "Advanced" tab then click on "Settings" (connect from anywhere);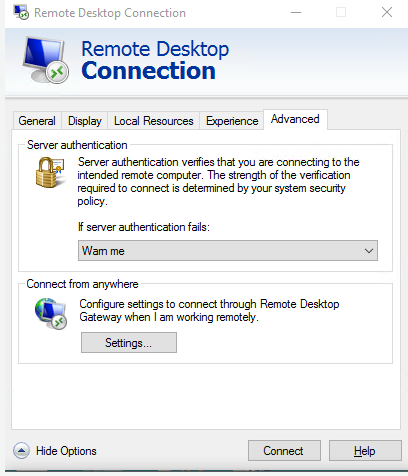 Clear the Check mark (radio button select) "Use these RD Gateway server settings" by selecting the radio button "Do not use an RD Gateway server".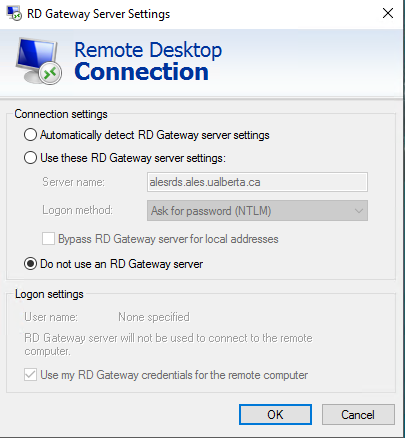 Select "Ok" to complete this phase of the configuration.
---
Using the ALES VPN
This guide describes how to set up the ALES VPN service.
Note: You must register your CCID prior to attempting to connect with the VPN client
Go to https://vpn.ualberta.ca
Click the "How to Connect to the University of Alberta VPN Service" guide at the bottom of the page.
Under "Procedure", download the proper installer for your computer & install the software.
Enter in your CCID@ales and your CCID password, and click "OK". The @ales is VERY important. If you just enter your CCID you will not be able to access ALES resources (as you will not be on the correct VPN).


To verify if you are connected to the correct VPN:

Expand the list of active programs in your task bar (on Windows)
Click "Open AnyConnect"